Folk Dances of South-West India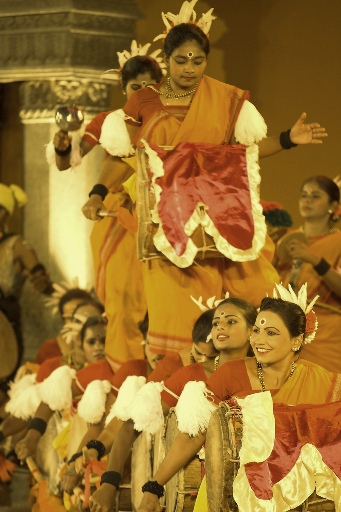 South-West India
 Today here we are provide a little information regarding folk dances of South-West India i.g. Dollu Kunitha,Ritual Dance,Ghode Modni,Tranagmel,Lava Dance of Minicoy, Folk dances and Tribal Dances in India
Dollu Kunitha (Karnataka)
It is a popular drum dance of Karnataka in which, large drums are decorated with coloured cloth and slung around the necks of men. The tribes of Karnataka, basically comprising of hunters and food gatherers, stocked with a regular précis of songs and dances related to hunting, food gathering and burial funeral rites.
Ritual Dances (Karnataka)
Amongst the ritual dances of Karnataka, Kavadis performed for the worship of lord Subramanya. Then, at harvest time, the Dovavas of Karnataka perform the Balakat dance. Apart from that, we have Devare Thatte Kunitha, Yell Ammana Kunitha and suggikunitha, which are dances related to the name of a deity or instrument balanced on the head or held in the hand.
Ghode Modni (Goa)
Goa was ruled by the Portuguese for many years. Hence, the European influence is quite evident in the annual carnival and the folk dance performed therein, known as Ghode Modni (dummy horse presentation). The dance brings forth the brave deeds f the Goan warriors, where the attractively dressed dancers perform armed with swords.
Tranagmel (Goa)
While performing Tarangmel, The energetic young girls and boys crowd the streets in colourful group, with flags and streamers or tarang in their hands. This group of young dancers invites everyone to join the festival spirit.
Lava Dance of Minicoy (Lakshadweep)
Minicoy is renowned for its tradition of the Lava dance, performed during the festival occasions on the island. Lava Dance is a very colourful and energetic dance of Lakshadweep, in which the dancers are dressed in multi-hued costumes and headgears.
They also carry a drum while dancing. In this form of dance, the participants perform to the rhythmic beats of drums and songs. Nurtured in temples, princely courts or villages, dance has moved into the auditorium of today, bringing pleasure to many more people, in far-flung regions.
This vast subcontinent has given birth to varied forms of dancing, each shaped by the influence of a particular period and environment. These pristine forms have been preserved through the centuries, to become a part of our parent culture, a living heritage, our pride and delight.
Folk dances and Tribal Dances in India
| | |
| --- | --- |
| State | Dance |
| Maharashtra | Kathakeertan, Lezin, Dandaniya, Tamasha, Gafa, Dahikala, Lovani, Mauni, Dasavtar |
| Karnataka | Huttari, Suggi Khunitha, Yakashgana |
| Kerala | Kaikottikali, Kaliyattam, Tappatikkali |
| Tami Nadu | Kolattam, Pinnal Kolattam, Kummi, Kavadi, Karagam |
| Andhra Pradesh | Ghanta Mardala, Veedhi Natakam, Burrakatha |
| Odisha | Gumara Sanchar, Chadya Dandanata, Chhau |
| West Bengal | Kathi, Chhau, Baul, Kirtan, Jatra, Lama |
| Assam | Bihu, Khel Gopal, Rash lila, Tabal Chongli, Canoe |
| Punjab | Giddha (women), Bhangra (Men) |
| Jammu and Kashmir | Rauf, Hikat |
| Himachal Pradesh | Jhora, Jhali, Dangli, Mahasu, Jadda, Jhainta, Chharhi |
| Haryana | Jhumar, Ras Leela, Phag dance, Daph, Dhamal, Loor, Gugga, khoria, Gagor |
| Gujarat | Garba, Dandiya Rass, Tippani, Gomph |
| Rajasthan | Ginad, Chakri, Gangore, Terahtaal, Khayal, Jhulan Leela, Jhuma, Suisini |
| Bihar | Jata Jatin, Jadur, Chhau, Kathautali, Bakho, Jhijhiya, Samochakwa, Karma, Jatra, Natna |
| Utter Pradesh | Nautanki, Thora, Chappeli, Raslila, Kajri |
| Madhya Pradesh | Karma |
| Meghalaya | Laho |
| Goa | Mando |
| Mizoram | Khantumm |
| Uttarakhand | Garhwali |
Folk dances list