Chola art is an Important part of Indian Art
 Chola art is an Important part of Indian Art, Features of Chola Art, Important Temples of Cholas, Brihadisvara Temple,The Temple of Gangaikondacholapuram, The Airavatesvara Temple at Darasuram
Many temples had been built by the Chola kings throughout their kingdoms. The temples of the early Cholas are found in large number in the former Pudukkottai region. These Chola temples reveal the gradual evolution of the Chola art and architecture. The Chola kings earlier built bricks temples. Later, they built stone temples.
Main Features
•The dvarapalas or guardian figures, at the entrance to the manadapa or hall which started from the Pallava period became an unique feature of the Chola's temples.
•The Dravidian Style got fully developed after a transition from the rock cut structures of the Pallava period.
Important Temples
Brihadisvara Temple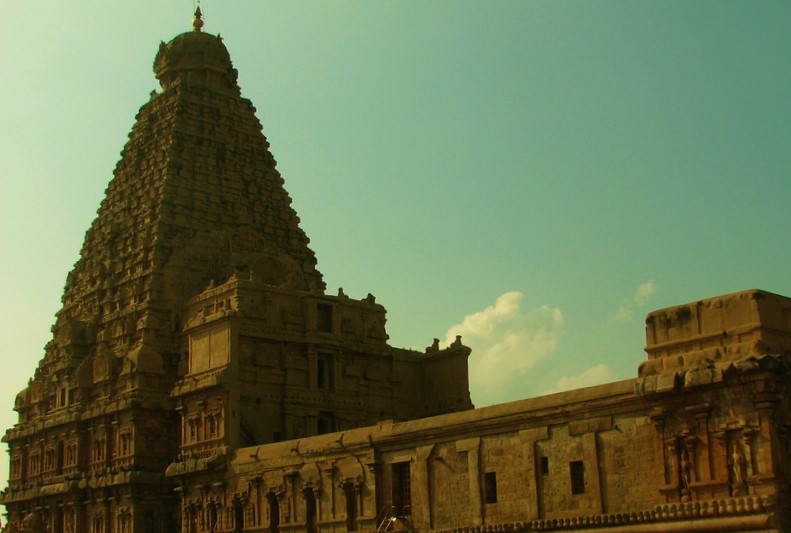 The celebrated Shiva Temple at Thanjavur, appropriately called the Brihadisvara and the Daksinameru, is the grandest creation of the Chola emperor Rajaraja (AD 985-1012). It was inaugurated by the king himself in his 19th regnal year (AD 1009-10) who named it after himself as Rajesvara Peruvudaiyar, architecturally, it is the most ambitious structural temple built of granite. It has been regarded as a landmark in the evolution of building art in South India and its vimana as touchstone of Indian architecture as a whole.
The Temple of Gangaikondacholapuram 
It was built by Rajendra I, and was completed in 1035. Its 53 m vimana (sanctum tower) has recessed corners and a graceful upward curving movement, contrasting with the straight and severe tower at Thanjavur.It has 6 pairs of massive, monolithic dvarapalas statues guarding the entrances and bronzes of remarkable beauty inside.
The Airavatesvara Temple at Darasuram
It was built by Rajaraja II, features a 24-m vimana and a stone image of Shiva. The Temples testify to the Cholas brilliant achievements in architecture, sculpture, paintings, and bronze casting.Nataraja Statue: It fuses in a single image Lord Shiva's role as the creator, preserver and the destroyer of the universe and conveys the Indian conception of the never ending cycle of time. Although, It appeared in sculpture as early as the 5th century, its present, world famous form evolved under the Rule of the Cholas. Shiva's dance is set within a flaming hole.
The Gods holds in his upper right Hand the damaru (hand drum that made the first sounds of creation). His Upper left hand holds agni (the fire that will destroy the universe). With the lower right hand, he makes the abhayamudra (the gesture that allays fear).
Explain the contribution of cholas in architecture
The dwarf-like figure being trampled by his right foot represents apasmara purusha (illusion, which lead the mankind astray.). Shiv's front left hand, pointing to his raised left foot, signifies refuge for the troubled soul. The energy of his dance makes his hair fly to the sides. The symbols imply that, through belief in Shiva, his devotees can achieve salvation. Krishna Deva Raya, the Vijayanagara monarch visited this temple in the year 1516, as seen from inscription here. There are many as 525 inscription in this temple.